Mid March 2020 Trail Report
Spring is certainly in the air. Daylight Savings Time has made after-work excursions possible, and it is hard not to think about the upcoming summer trail season. The Whitefish Trail is often the first regional trail system to melt out because of it's low-elevation, open and managed forests, and southern exposure. As your trail shoes and bike tires start yearning for dirt, it is important to remember some basic trail etiquette, especially as the tread adjusts to melt-freeze cycles.
Bikers should yield to hikers and both must yield to horseback riders.

Step off the trail on the downhill side to allow horses to pass. Because bikes move quickly and relatively quietly, please let others know when you are approaching, control your speed, and never startle wildlife.

The Whitefish Trail is a user maintained trail.

Everyone maintains the trail – do not cut switchbacks, widen trails, or create new trails. Please avoid using the trail during muddy conditions.

Dog walkers must have control of dogs at all times.

Dogs should never chase wildlife. If your dog is not under strict voice control, they must be leashed. Please always remove pet waste. Mutt mitts are provided at all trailheads.

Remember, we are in bear country.

Bear aware tips: hike in groups, control your dog, carry bear spray, keep food locked in vehicles, and keep a safe distance from wildlife. Report bear sightings.

Portions of the Whitefish Trail travel through private property.

Public access has been generously donated. Please respect these private lands and stay on the trail corridor. No hunting, shooting, or fires of any kind including smoking. 
It has been a windy winter season, and we have had a record number of trees come down along the Whitefish Trail. Our devoted trail volunteers, with help from the DNRC, have been working hard to get trails cleared, and we are happy to report that over 50 trees have been removed from the trail corridor in Beaver Lakes in the last couple weeks. Lion Mountain and Skyles have been cleared to the Two Bear road crossing and the South Beaver Loop is now cleared. Swift Creek and Smith Lake are currently impassable due to downfall. If you see volunteers or trail crews out working, shower them with high-fives and praise, and please continue sending in your trail reports to info@whitefishlegacy.org.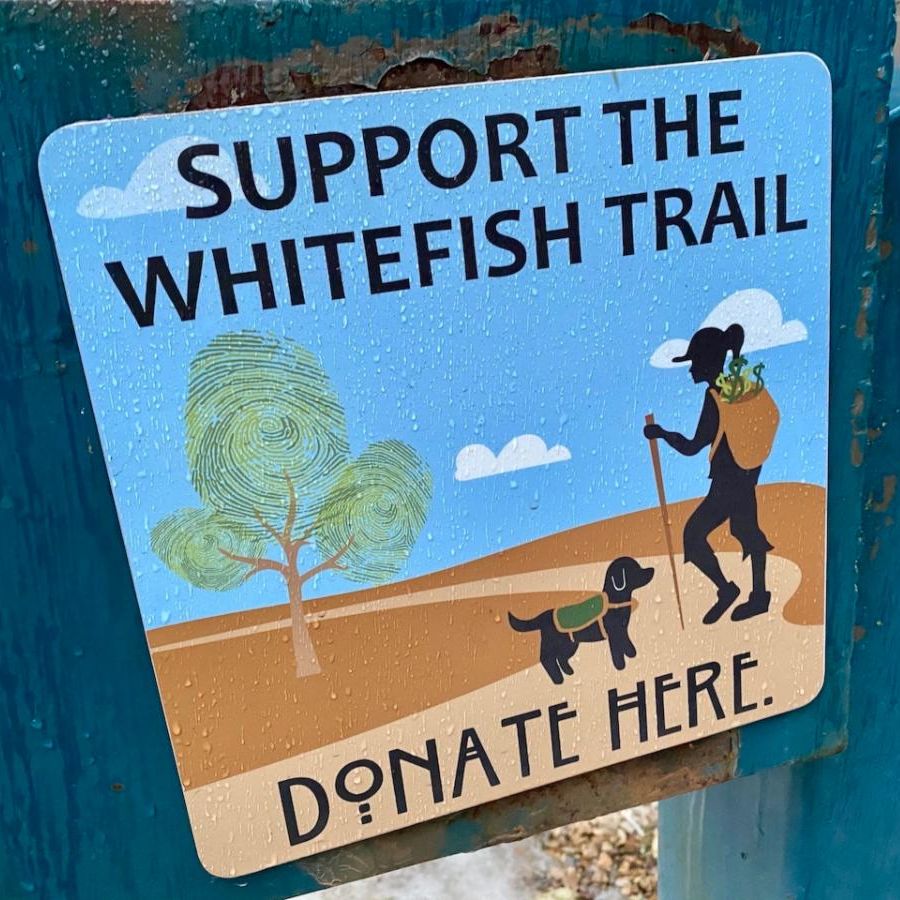 Valley snow is melting fast, leaving sections of snow and ice on shady, north sections of trail. Lion Mountain and Skyles, for example, are ~70% snow free. South Spencer, Lion Mountain, and Skyles are great early season destinations while Haskill, Woods Lake, Swift Creek, and Twin Bridges take longer to melt out. As you start exploring our local trail this spring, avoid using the trail during muddy conditions and please hike or run in the trail's existing tread. Stepping around remaining ice and snow can widen the trail and create lasting damage.